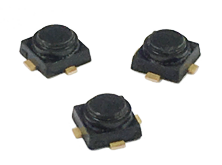 Low Noise FETs (HEMT) for Doppler sensor provide low noise, high gain and high CNR performance at 24GHz.

This Noise FETs line-up for Doppler sensor can replace to Renesas Electronics EOL FET series directly.

These FETs can build Oscillator, Low noise amplifier and Driver amplifier of 24GHz Doppler sensor easily.
Cross Reference List ; Renesas products vs. CDK products
| | |
| --- | --- |
| Compatible level | |
| 1: Package and characteristics are almost same |  2: Almost same package but similar characteristics |
| 3: Almost same characteristics but different package |  4: Different package and similar characteristics |
Product Lineup
Renesas Part No.
CDK Part No.
Status
Compatible level
Low Noise GaAsFET    
for Doppler sensor at 24GHz
NE3514S02
CKRF7530CK24
Under Development
1
NE3517S03
CKRF7531CK34
Under Development
1
NE3520S03
CKRF7531CK34
Under Development
1