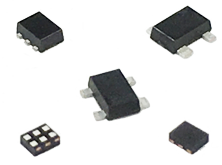 GaAs Low Noise Amplifire ICs for GNSS(Global Navigation Satellite System) and SDARS(Satellite Digital Audio Radio Services) provide low noise, high gain and high input 1dB compression performance.

This GaAs LNA ICs line-up can replace to Renesas Electronics EOL FET series.

Various PKG line-up such as 4pin, 6pin , 6pin leadless and 8pin PKG are prepared for Car Antenna, mobile phone and IoT equipment.
Part Number
Applications
NF typ
(dB)
Ga typ
(dB)
Idd
(mA)
Document
Status
CKRF3002XS06
GNSS
Mobile LNA
0.65
@1.575GHz
18.5
@1.575GHz
3.0
@1.8V
datasheet
RoHS
Under Development
CKRF3004XS07
GNSS
Mobile LNA
0.95
@1.575GHz
18.5
@1.575GHz
1.2
@1.2V
datasheet
RoHS
Under Development
CKRF3005XS06
GNSS
Mobile LNA
0.75
@1.214GHz
18.5
@1.214GHz
3.0
@1.8V
datasheet
RoHS
Under Development
CKRF3006XS07
GNSS
Mobile LNA
0.95
@1.214GHz
19.5
@1.214GHz
1.2
@1.2V
datasheet
RoHS
Under Development
CKRF3508MM34
SDARS/GNSS
LNA Block
0.43
@1.575GHz
18.0
@1.575GHz
30
@3V
RoHS
Under Development
CKRF3509MM34
SDARS/GNSS
LNA Block
0.40
@1.575GHz
17.5
@1.575GHz
15
@3V
datasheet
RoHS
MassProduction
CKRF3510MM34
GNSS
LNA Block
0.42
@1.575GHz
17.0
@1.575GHz
10
@3V
RoHS
Under Development
CKRF3511MM34
GNSS
LNA Block
0.45
@1.575GHz
16.5
@1.575GHz
7
@3V
RoHS
Under Development
Cross Reference List ; Renesas products vs. CDK products
| | |
| --- | --- |
| Compatible level | |
| 1: Package and characteristics are almost same |  2: Almost same package but similar characteristics |
| 3: Almost same characteristics but different package |  4: Different package and similar characteristics |
Product Lineup
Renesas Part No.
CDK Part No.
Status
Compatible level
GNSS/SDARS向け LNA GaAsIC
NE3508M04
CKRF3508MM34
Under Development
2
NE3509M04
CKRF3509MM34

MassProduction
2
NE3509M04
CKRF3510MM34
CKRF3511MM34
Under Development
2
2
NE3510M04
CKRF3509MM34
MassProduction
2
NE3510M04
CKRF3510MM34
CKRF3511MM34
Under Development
2
2